Subscribe
Get the latest on CREATE news, information and events

You can make a difference! Help Connect Kids in Care this Christmas
Christmas is such a fabulous time of year. Friends, family, food, festivities. Going Home!
However for children and young people in out-of-home care, this can be one of the loneliest and confronting times of the year. Christmas is a reminder for a lot of young people in care of the challenges they face, their separation from siblings and family, and feelings of isolation.
After working with children and young people with a care experience for over 20 years, we understand how important it is to have fun events to simply connect young p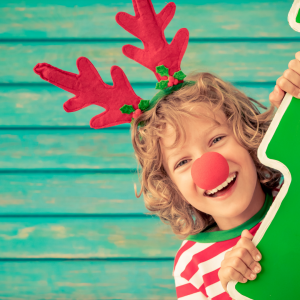 eople who are experiencing similar journeys. Because of this, CREATE's Christmas Connection events have become legendary! They are hosted in every state and territory across Australia engaging thousands of kid's in care. These special events also provide crucial opportunities for siblings who are separated to come together – last year, our Christmas connection events
brought 112 sibling groups across the country together.
However, we need your help to continue awesome initiatives like our Christmas Connection events. This year, become a part of the CREATE Community by donating so that we can continue to ensure that every child and young person in care knows they are a part of community and that they
do belong
.
A CREATE Christmas: Case Study from our 2020 Annual Review:
"Victoria's Christmas Party Connection Event In late November, CREATE in Victoria celebrated Christmas with clubCREATE members at an indoor amusement venue in Braybrook. We had 429 children, young people and carers join us to celebrate the year that was. There were smiles all around while we raced around in dodgem cars and go-karts, played laser tag, mini-golf, and tried our hands at the bucking bull! There were face-painting and Christmas crafts and children and young people buzzing to tell Santa what was on their Christmas list. The children and young people loved unwrapping presents that had been generously provided by our corporate sponsors. It was an amazing day that the Victorian team looks forward to each year."
'CREATE events are great places to be: Every time I've been everyone was supportive, people could speak their minds.' (Robert, 17)
There are so many ways to support CREATE this Christmas time:
You can make a difference today by helping to create change this Christmas and supportingCREATE's mission of creating  a better life for children and young people in care. Why not make it an ongoing donation or approach your workplace for dollar matching opportunities!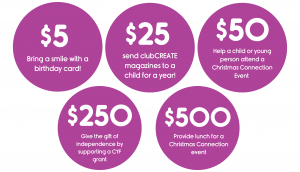 You can also donate via bank transfer:
CREATE Foundation
Bendigo Bank
BSB: 633 000
ACC: 120 674 346
If you require a donation receipt for a bank transfer donation please email create@create.org.au
Support our Charity Partners
We have partnered with Charity Greeting Cards, so with every card purchased 40 cents goes to CREATE! A great option if you need to bulk buy beautiful cards for the whole family or workplace. CLICK HERE for more information, designs and pricing. 
Kind Cards is an online store specialising in affirmation cards which is here to remind us what self-love is! A great gift for Christmas and at the checkout you chose which charity your $2.00 donation goes to – so make sure you chose CREATE at the checkout! Find out more HERE!
On behalf of CREATE Foundation, thank you for supporting our vision that all children and young people in out-of-home care reach their full potential.