Subscribe & Listen to CREATE's new Voices in Action Podcast with Young People
CREATE is thrilled to announce the new platform for young people with a care experience to be heard! CREATE's Voices in Action is their unique podcast for young people in care to talk about issues that are important to them.
So, what's in store? The first two editions of the podcasts will look at transition from care; what support makes a difference and young people's views on the extension of support and placements past the age of 18.
CREATE Foundation is the national consumer body representing the voices of children and young people with an out-of-home care experience (including kinship care, foster care and residential care). CREATE develops policy and research to report on and advocate for a better care system.
CREATE recently released the first episode featuring CREATE Young Consultants Damon, Lucas and Sharneece. These three young advocates discuss topics that really impact young people with care experience and their insights provide a powerful insight into the care system, what it is like, and what needs to change.
CREATE Foundation's Chief Executive, Ms Jacqui Reed, shared that, "The power of young people's stories about what they experienced in care will never lose its potency."
"The Voices in Action podcast makes me very proud of the CREATE team who work tirelessly to produce the material,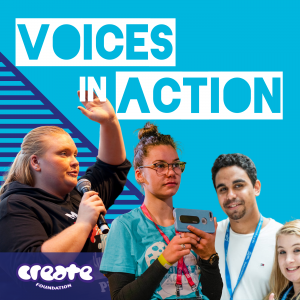 and support young people in speaking up and being heard. I am inspired by the courage of the young people we work with every day, and I trust they know that their words make a difference to shaping the future system for others."
What do young people think of the podcast? Podcast guest, Lucas, recorded a video recommendation of the podcast for the out-of-home-care sector and you can watch here now: https://youtu.be/4UD0mBM1_00
Where can I listen?
The podcast is hosted on the CREATE website here: https://create.org.au/podcast/
Apple Podcasts: https://podcasts.apple.com/au/podcast/voices-in-action/id1521384437
Spotify: https://open.spotify.com/show/1E52Nbl0Swj72K80QZ5fxm
Join the CREATE team in sharing the words of the Young Consultants they are so proud of by subscribing to the podcast, listening, sharing it on your social media through your networks. For more information please visit the CREATE website at www.create.org.au
More episodes of the Podcast will be released in the months ahead.
For further comment from CREATE's Chief Executive, Ms Jacqui Reed, and/or a young person with care experience contact Leigh White, CREATE Communications Advisor, via (m) 0431 932 122 or leigh.white@create.org.au